Please consider donating to CETA Foundation! All proceeds go towards supporting the programs that seek to enrich the community. You can donate here. and subscribe to our newsletters here___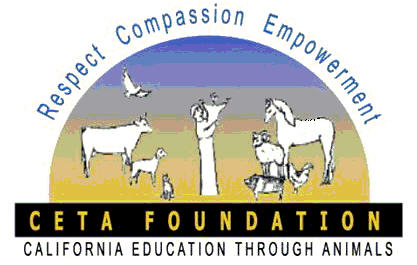 California Education Through Animals Foundation (CETA) was established in 2007 as the non-profit arm of Veterinary Outreach. It provided programs that unfilled niches in the region (Sacramento/Solano/Yolo counties):
Teaching how to successfully incorporate animals into family life through sales and adoption of parrots, horses, homeless animals and laying hens.
Retraining or healing homeless animals for placement in "forever homes"
Taught unique ways of interacting with animals that are rewarding, fun and empowering through internships,  ranch visits,  community events, therapy visits to assisted living communities, school presentations and lessons.
Provided healing and therapeutics using animal interactions to promote the well-being of children and adults.
Developing innovative ways of caring for and treating animals that were less stressful and in tune with their natural states.
Provided affordable veterinary care including a low-cost spay/neuter service for Yolo and Solano Counties to reduce the number of animals euthanized at local shelters.
An annual Sheep-shearing/Open House where community members could watch a professional shear our wool sheep and meet the friendly animals at Phoenix Ranch
Internships/volunteer opportunities for pre-veterinary students who need experience with animals for their applications.
Due to a number of circumstances, these programs were put on hold while we rebuild our volunteer base. Dr. Chan is looking for community members and program administrators who would like to utilize the resources at Phoenix Ranch for teaching and therapy.
Here are some additional ideas:
Kids and Canines—teaching children how to respectfully and safely live with and care for their canine friends
Creative crafts and learning with wool and other resources from Phoenix Ranch
Presentations and training on "The Whisperers' Way"
See our latest news and photos on CETA Foundation's Facebook page
link to articles about CETA Foundation _____
CETA Foundation is an all-volunteer 501(c) organization. Donations are tax-deductible and used only for sustaining the animals and operational costs. EIN 26-0881193